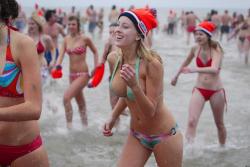 It's the same every year. We make ourselves promises that we can never keep. Unrealistic dreams of having the perfectly toned body, the perfect ass, the perfect perky breasts…they all make us feel bad when we look in the mirror halfway through February. When it comes to sex, the standard resolution is 'have more!' No shit Sherlock! But instead of just promising yourself that you will have more sex, how about you promise yourself better sex? Quality is better than quantity trust us.
7 Sex Resolutions That Will Help You Improve Your Sex Life
1. Know your own body
The first thing people overlook is their own body. If you don't know your own body and its capabilities then how can you expect to be a God or Goddess in the bedroom? Make sure you explore your body this year inside and out. It will help you have better sex.
2. Leave the tech at the door
Phones and laptops are great, we're not saying they're not. But you should leave computers, phones and your ipad at the door of the bedroom. The bedroom is for sleep and sex. The moment you invade your room with technology is the moment you put sex on the back burner.
3. Put sex in the diary
Instead of allowing sex to always be spontaneous, try putting it on the agenda this week. If you put it in your diary then you can be guaranteed your body will gear up for if appropriately. The chances of having better sex will increase dramatically as a result.
4. Take pride in your appearance
Remember how you always made an effort when dating for the first time? Well now is the perfect time to remember to do that all the time. Dressing up for you fuck buddy will add to the sexual tension and have you getting better sex instantly.
5. Try having sex EVERY DAY
Not for the faint hearted. But like anything practice makes perfect. If you have sex every day better sex is bound to happen.
6. Spend some money on sex
Just to clarify; we don't mean visit a brothel. We do mean considering buying some sex toys and sexy outfits to aid your quest in getting better sex.
7. Tease yourself
Research has proven that regular masturbation generally improves the libido and has you gagging for sex more. It can also make you last longer in the sack.