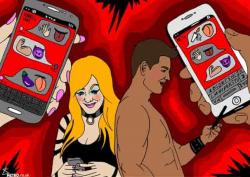 Covid 19 has had a detrimental effect on so many parts of our lives. Basic tasks like going to the shops have become a major source of travel these days! Some people, due to their jobs, are still very much out and about. Essential services are available and the essentials are still being done. However, social interaction has suffered. We see less people less often. We cannot just go and hang out with people without having to consider the effect and the consequences of doing so. This means that finding a fuck buddy has become harder, and in some cases, having sex has become difficult.
Prior to Covid-19, we would have met up with a potential fuck buddy either on a night out or by prearrangement via a website. We would have gotten to know them in person, and then the sex would have happened the old fashioned way – in person! In these unusual times, this is simply not the way that things work.
We are not able to meet in person as easily due to the closure and restrictions placed on social gathering places. Even if we were allowed to, each individual has to consider their own person appetite for risk based on their personal circumstances. This means that a lot of us are having to turn to digital solutions to help us meet our sexual needs.
Even before the coronavirus pandemic, online dating had become the norm. It is perfectly acceptable to find a fuck buddy via a website. There are certain dating websites, like this one, that specialise in helping people find a friends with benefits relationship, or other no strings attached partnerships. Finding a fuck buddy online has become easy because of this.
Once you have found the person, or if you already have a fuck buddy, the sex itself now becomes more tricky. If you want to have in person sex there are steps you can take in order to allow you to do this, but they may be impractical. If they are, then phone sex is a good placeholder. Being able to hear the other person, telling them what they should do or hearing what they want you to do is a great way to get sexy in different locations.
Video calling is even better. You get not only sound but sight. Two of the five senses are then filled and you can use the imagination to fill the rest of the gaps. Zoom sex is great!
So don't let COVID-19 slow you down. If you want a fuck buddy, you can still make it happen.