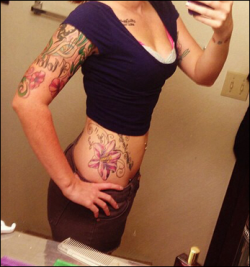 Welcome to the F-buddy website, and the exciting month of December. Christmas is an impelling time to join f-buddy as there are so many new users who always join us in December. The end of the year reminds people to take stock, to look over their lives and how the last 12 months have gone. For those people who haven't gotten laid in a while this is usually enough to convince people to take action and do something about it. We had a near record number of girls join the website this time last year, and I suspect that the same thing may happen again this year. With the long nights and the short days, now is a great time to be getting into bed with someone – the nights are long what else are you going to do with them?
With that in mind in gives me great pleasure to introduce to you our latest member to join the f-buddy website, meet Roisin.
Roisin was born and raised in Ireland, and she says Ideally she'd like a "big Irish bloke" but that she's also be up for hearing from anyone that is open to a short one month fling. She is going to have time off during the holidays and whilst she has family, she also wants a "friend", which by our translation means that she wants a "friends with benefits" if you know what I mean.
Sound interesting? Log on and drop her a message whilst it is still December 2016. This girl has got a window of opportunity that will close!