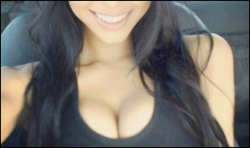 Welcome to December – and what a month of upheaval It is turning out to be! The imminent exit of the UK from the EU and the effect that is having on the soft border between Northern Ireland and Southern Ireland is potentially catastrophic! Don't they realise? What if someone on the south side of the bordered ended up with a fuck buddy living in Northern Ireland? Think of all the extra paper work you might have to do! A booty call could no longer be done after a night out at 2am in the morning unless you happened to have your passport or other relevant ID on you in order to get across the border to your booty. It would be like a giant legal cock block! Think of all the friends with benefits weeping into their pillows at night for lack of an orgasm! If that is not a unlawful under the human rights act, I am not sure what is!!!
Luckily nothing is going to change this side of Christmas, and I think the politicians understand the potential block to the free flow of sex this would cause so I am hopeful of a hook up friendly outcome. Till then, I'd like to introduce one girl who is here to take advantage whilst the sex is still easy and accessible, meet Marie.
Marie is born and brought up in the area, though she has actually travelled a lot of Ireland. She is looking for "someone for Christmas"! So if you want to be a present for her, now is a good time to contact her.
Her profile is short – she leaves her photos to do most of the "talking", and what a good job they do.
So if you fancy being a special present this year, if you can be the gift that keeps giving, then why not hit Marie or another of our members up and see when a convenient time for delivery would be.