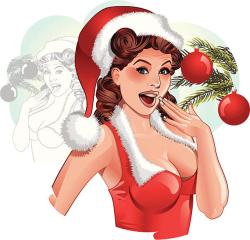 Christmas in Ireland is such a lovely time to be there. The lights come out, the pubs have more people in them, everyone is in a better mood. Christmas is also a great time to find a fuck buddy in Ireland. Why and how you might ask? Well all me to explain it to you.
More people want to find a fuck buddy during this time
At Christmas we are bombarded with pictures of people having a great time, Christmas films about people finding other people to sleep with, the whole kissing under the mistletoe thing suddenly comes out in force. Christmas is a time of being inside, in the warm and having sex, whether we talk about it or not that is part of the Christmas package. This means that if you are currently not having sex you become more aware of it. You find yourself surrounded by people walking around holding hands and making obvious public displays of affection to each other. This is in the context of billboards and adverts which push the whole "couple" thing really hard at Christmas. This means that people are more insecure. They are made more aware of their singleness and it is not healthy at a general level… but it is helpful on a motivational level. People are generally more motivated to want to find a fuck buddy. This means that it is easier to do so!
There is more opportunity
The opportunities to then go and meet people also increases. We discussed last month a little about how it can be a numbers game to some degree, but that this is not the be-all and end-all of the matter. In this case, there are more numbers. This is partly driven by more people being open to hooking up. This is also driven by more people being in the same place! If you go to Dublin on or about the 8 December, all the rural-dwelling hot girls and guys are there doing their Christmas shopping. You have a choice. You can go to Dublin to shop for things or you can go to Dublin and shop for a person! Meeting someone on the street or in a shop is very real and happens much more than you think it might, and that could be you!
So if you are single at the moment, take advantage of this easy time to hook up and, well, hook up!