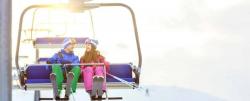 Welcome to the fuck buddy website, the place where we help like-minded individuals find each other for some adult fun. February is one of the best months to skiing. We are still well in the zone of snow season, the weather can often be bright and sunny, and it is easier to get time off work outside of the Christmas busy season in order to make it happen. Skiing (or snowboarding) is also a near perfect holiday. You are getting exercise, are in the sun which stimulates happy hormones and you are in nature away from computers, screens and other technology. You finish your days having had a blast, and you sleep great each night due to the exercise. It is perfect. The only thing that can add the sugar on top is having someone to have sex with at the end of the day.
Many people come to a ski slope with someone to sleep with, a girlfriend, a casual relationship or even a fuck buddy. A friends with benefits set up works particularly well for the ski slopes as you can spend your days having a laugh and your evenings making out. If you arrive at a ski slope without a fuck buddy have no fear, it is also a great place to hook up with someone. The obvious places are the bars, pubs and other apres ski places that litter the edge of the slopes. However, there is an even better place to pick someone up. The ski lift.
The ski lift is the perfect place to chat someone up. Let us imagine you get on a lift and there is a girl or guy you like. You are now on the lift for 5-10 mins so you have a fixed window where they are likely bored and looking for someone to entertain them. This is the perfect window. You can start by chatting slow, relaxed. If you treat it in your mind as a "mini-date" that is the perfect approach. Speed dating usually gives you a maximum of 3 minutes. Here you have 10 minutes ample time! They are in a good mood because they are having fun. They are on holiday so more open than usual to having a casual relationship as you know you can leave it "behind" when you go home. the best part is if you don't hit it off, you can just try again on the next ski lift! Do it all day and eventually, you will meet someone you get on with.
So don't waste your ski lift opportunities. When you are on one, make sure to use the opportunity to see if you can hook up. Probability says that if you do it every time, eventually you will get the answer you are looking for.