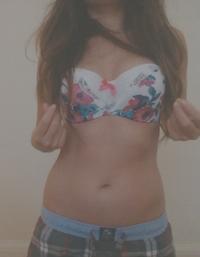 Say hello to our newest member, Rosie.
Rosie is a young, beautiful brunette with green eyes, seeking an older man. With a slender and pert body she describes herself as 'classy, very classy…with a naughty side, a very naughty side'. Poetry in motion eh?
She likes to begin with a bit of saucy email or chat before moving onto the heavy kinky stuff. Ideally Rosie is looking for casual encounters, one night stands and older men. But that doesn't mean she's not open to suggestions from the right f-buddy. At a petite 5"5, Rosie has it where it counts and as you can tell from her photo, likes to dress up to dress down. She's full of the sexual energy only a rabidly horny woman has, so what are you waiting for guys? Line up now, take a number and give Rosie a chance.
We can assure you, she's worth the time…