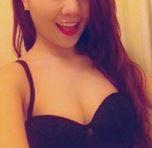 It gives me unusual pleasure to introduce our latest member to join the f-buddy website, meet Emma.
Emma is an unusually creative girl, though you have to dig a little deeper than her profile to really see what lies there. She states quite clearly that she loves drawing and painting, but it is not till you have a look through her profile pics and get to the drawing of a dragon that she put up that you really see quite how much talent there is compressed into her small and slender figure. She is really quite something. She says that dragons and myth are a particular love of hers, so many of her drawings ad pictures tend to be about that subject. However she does also love the human body and is a standing fan of erotic art. I suspect what she claims to be the drawing equivalent of "fan fiction" is likely to be a lot more than the doodles of a mere armature. To come to her personal life, I think we can all agree that a talented hand such as hers should be put to use on more than just the capturing of imaginary orgies – and indeed should be given the chance to experience something more real – which is why she signed up for the website.
She is looking for someone who would enjoy helping to either inspire some of her more racy drawings, or perhaps even be drawn directly themselves. She says that she finds creating a real turn on, and would love to extend the session with her "model" after hours.
If you would care to be Emma's muse, why not log onto the website and contact her now? She is waiting for someone, it could be you.