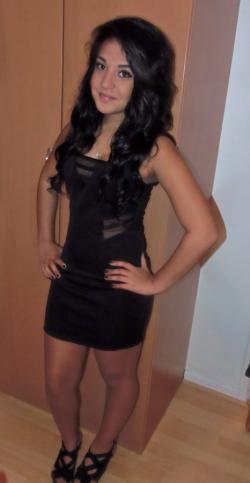 Welcome to December, the time of Christmas meals, parties, gifts and fun... and if you are looking for a partner in crime to help make sure your Christmas is complete with a little after hours action look no further. It gives me great pleasure to introduce our December member to you, it is Leah.
Leah likes to party, and by likes to party I mean she is almost a professional party girl! She will do a dinner date on a Monday, go see a play on a Tuesday, Drinks after work on a Wednesday, Thursday night is band night so it is always a music thing, Friday and Saturday are die hard clubbing nights so its grab the glow sticks time, and Sunday is her day of rest.
With December coming in and all the inevitable extra Christmas gig's, she is looking for one of two things. Either someone she can booty call at the end of the night or someone who can keep pace with the biggest party month of the year. She says she really doesn't mind which, she would just like to finish her nights with some sex, she says it is the "missing ingredient" in what would other wise be a "awesome life" right now.
This girl sounds like she has a lot of energy, so if you think you can keep up, or you are a night owl and there fore up for having a late night caller at the end of the day then send her a message. Be warned – she sounds like if you say you are going to sleep with her, then you better deliver!