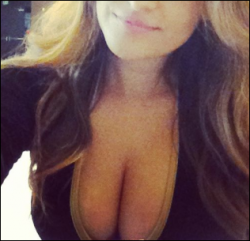 It is my job to introduce latest members to this site through the member spotlight post which you are reading now. I try and make the titles look fun, "Bianca the bold" that kind of thing. I started this by writing "Mellissa the meek" as her (rather revealing) profile pics make her look like the pretty but slight shy type. I have since read her profile description and she is anything but shy! She strikes me as the perfect fuck in fact, a good girl who knows when to be bad, if you get what I mean!
Mellissa is an extremely forth coming girl who knows exactly what she likes and is not afraid to request it. She is looking for someone bigger and stronger than her, some who can pick her up of the floor with ease, someone who can really take charge with her... just as well she is so small and light! From her frame in the photos I reckon that's most of the population!
She likes multiple positions – the exception is missionary position which she really actively dislikes. She likes being fucked from more than one sex position in the same sitting "1 just doesn't quite get me there" she says. She loves sucking cock and she loves being told what to do. She is a dirty little thing and is not afraid to make it clear just how far she will go! She has been conspicuously silent about the subject of anal, so I will leave that for one of the sites members to find out. Perhaps you can update us on this when you find out!
If you are interested, just log on and drop her a message.