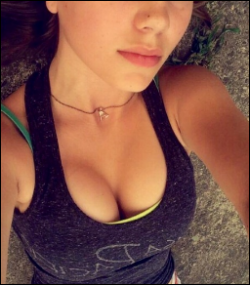 The summer is coming to a close and there is a sense that that this year's chapter of great summer sex is about to end... but it is not over yet! There is still time to get a good fuck in before the winter months kick in, and that is certainly what one of our latest members wish's to do! With this in mind it gives me great pleasure to introduce to you our latest member to join the f-buddy website in order to find some easy no strings attached fun in the bedroom – meet Caroline.
Caroline is a young fun loving girl who is at her "happiest time of the year" apparently! She loves the summer and says that without the extra confidence that all the warm days have brought her she is not sure she would have had the guts to join this website. However, she has done the smart thing and now is waiting to find a guy that she can hook up with in the evenings after work.
Now she is not your usual girl in terms of tastes. Of course she is not going to say no to a muscle bound brad pitt of a guy, but this girl is also a huge harry potter fan! She grew up reading the books, and loves all of them! She is even considering flying to London to see the show that just opened she is so obsessed. As a result she loves geeky looking guys, and yes unsurprisingly she has a particular fancy for men in glasses. Round glasses. Preferably with a scar on their forehead! What this also means that for any of you who like the school girl fantasy she is well up for it – as long as she gets to be in Gryffindor.
Like the sound of her? Log on and ping her a message today!