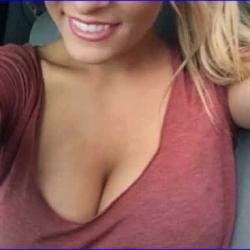 Welcome to summer, and what an exciting month we have ahead of us! The summer is coming in full force, the weather has warmed up, and all the honeys are hitting the street. There is something about the warm weather that always beings the beautiful people out – or at least that's how it feels. I am never sure if you actually end up with more attractive people when it's hot, or if perhaps the heat just makes you hornier so that everyone looks and appears to be hotter than they actually are! In many ways it doesn't matter, the results are the same. Everyone wants to get laid more, and there is also more choices of potential matches available. Win win! With that in mind, I would like to introduce you to this months member spotlight, meet "summer".
Summer has recently joined the website in order to spice up her spring! Like all the members of the f-buddy website, she is single and ready to mingle, with no strings attached. She is looking for someone that she can have a no strings attached relationships with, someone that she can hook up with, without the usual strings and hassle that can come with dating.
She is a fun-loving girl that lets her pictures do a lot of the talking for her. She likes giving blow jobs, anal sex, and likes multiple position including, but not restricted to, reverse coy girl and doggy style.
If you are looking for something a little sizzly this summer, why not ping someone a message now?