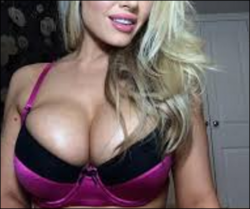 The many people that join this website are all looking for different things. Some people want a quick one off fuck, other are looking for a more medium term fuck buddy, you know more regular access to sex. Some people don't really even know what they are looking for, they just know that they want to get laid, and that this is a great place to try and make that happen. In this, they would be 100% correct. This is the perfect place to make it happen. The one thing everyone has here in common in that they love and want to have more sex, so you are amongst friends!
Some people are looking to push their personal boundaries, to try new and different things and experience a different side to their sex life. Charlotte is no exception to this.
Charlotte says she is early 30's which means in honesty she is probably late 30's (I don't know why most women lie about their age, but pretty much everyone takes about 5 years off!). She says that she is a genuine "sub" looking for a "dom". She said she is "looking for someone to teach me the ways of BDSM". I get the impression that she is not a complete new comer, but I think she has only dabbled so far, and so is keen to find a man that can really dominate her, really take control and take charge and run things in the bedroom the way that they want to, with no regard for how she feels about things.
If you think that you are that man, why not drop her a message?