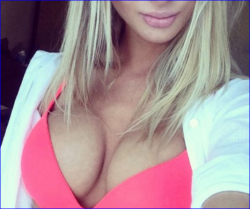 We are coming out of summer, and what a summer it has been! There have been some blindingly hot days, some really nice days where all you want to do is laze about naked with someone and do little else other than have sex and rest! It has been a good run, and now we are coming into the cooler autumn days, and for some of you this will be a real relief! Not everyone copes well with the heat. There seem to be a lot of girls out there that are solar powered, they thrive on the heat and things just are not the same for them without it, but for a lot of people, especially men for some reason, they do better in the cooler months. Those cooler months are coming in, and with then they bring a shortening of days, which leave just that little bit of extra night to have a little fun with! With that in mind, I would like to introduce to you this months member spotlight, meet "Autumn".
Whilst Autumn is actually a real name, I know someone in real life called Autumn, this is not really the girls name! She has joined the website looking for a fuck buddy or some no strings attached fun. She wants someone that is up for a booty call now and then, without any of the hassle and hard work of a committed relationship. She has a great life, and no time at the moment for anything more, so relationship hunters need not apply!
Whether you like the look of Autumn, or would just like to meet some for a hook up, you have some to the right place.