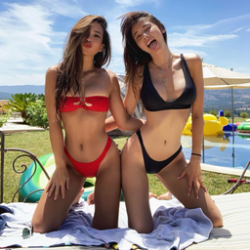 Christmas is such a fabulous time to find a fuck buddy. There is a festive mood in the air, people have some time off that they can use to hook up with other people, everyone is (generally) in a good mood. The weather is great… what more can you ask for? Christmas also brings with it certain drivers that make people more likely to want to hook up.
The time of year
December is perfect beach weather. The sun is high, the beaches are sandy and smooth… and for some reason this makes it feel like all the hot people come out to play. Where have they been hiding during other times of the year you may ask yourself? Do they really only appear in the summer? This is not true of course, but the good weather does make people wear less clothing that other times of the year. So when everyone is out in their beach wear, bikinis and their skin has that perfect summer tan, yes of course everyone looks hotter than usual. This means that people get hornier too, which in turn drives people to want to have sex more. The higher the overall sex drive of the country is, the more everyone hooks up! There are simple more people out there that want your body and you are likely more motivated to help make that happen!
Insecurities kick in
Christmas is also a family and friends time. You meet, you catch up, you find out what is happening in people's lives. This means that by comparison, you might find yourself spending a lot of time with couples, and that can drive insecurity up. The more insecure you are / other people are about their single status, the more that you / they want to do something about it. This means that people want to have a hook up or a friends with benefits waiting for them at the end of the night, more than any other time of the year. This again drives motivation and makes it easier to hook up.
You have the time
More people have or take time off at Christmas at the same time as each other. This means that you have the time to meet, to hook up and to have fun together in the bedroom. Sometimes life gets busy, at Christmas people make time for fun.
So Christmas is a great time to hook up, I hope you take advantage of it.