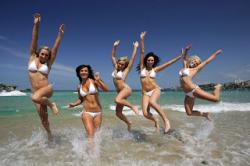 In 2014 a census was published by a dating site detailing the average sex habits of the average Australian. It turns out that what profession you're in can have an impact on the amount and type of sex you have over your lifetime. The survey conducted across an array of different age groups and professions concluded that people in certain professions, had more sex than others.
The Breakdown
Aussies working in the legal industry are the most satisfied sexually according to the census, with 54.5% reporting that they enjoyed their sex life. At the other end of the pendulum, 44% of the IT and telecommunications industries reported being dissatisfied with their sex lives. It turns out that you shouldn't work on computers or with mobile phones if you want to have better sex.
Estate agents have always had a pretty slutty reputation, but even I was surprised by 44.7% reporting that they had slept with at least 21 people over their lifetime. Must be all those viewings they do.
If you work in finance then you might be embarrassed to know that most of the respondents in this section admitted to lasting very little time at all during sex, with many attributing fatigue and stress at work as the main cause. Having met some accountants, I'm inclined to believe this.
Does it mean anything?
Well I always take the results of any survey with a pinch of salt. It is a cross section that the survey covers rather than the whole, and we all know that you can't judge a population based on the actions of a mere few.
Should you worry?
Only you can answer that question. Whilst there are professions that seem to expose workers more to sex, it doesn't mean they have the best sex there is to have. If you think you're not getting enough sex, or not having good enough sex, then it doesn't really matter what professions you're in. Only you can do something about that. Being on f-buddy is a good start, but actions speak louder than intentions. Start messaging some buddies and see if you can strike up a connection.